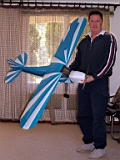 Statistics
Wing Span:
Length:
Chord:
Weight:
Wing Area:
Wing Loading:


Essential Features contributing to this loading:






Radio Setup:



Battery Access:

1,795mm
1,300mm
280mm
2,340grams
50.26dm&sup2
46.6grams/dmē - very slow flying! Down flaps make for instant takeoffs and very sedate landings.

- Electric Powered using:
- 13" x 8" (330 x 203) blade.
- 833kv 450w outrunner - heaps of power for this model but 3D is not possible!
- 60amp controller.
- 4S1P 2200 15c LiPo battery - 12minute flights with multiple landings, when easy on the throttle!
- No extra weight added for COG maintenance.

Spektrum DX7 transmitter with AR7000 receiver (full range) with 4 standard servos. Ailerons are independently controlled allowing for Flaperon setup.

The front windscreen tilts up to allow access into the cabin. A larger battery would fit quite easily.