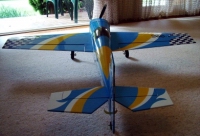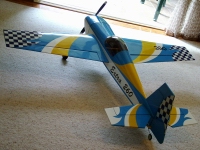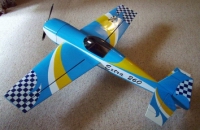 Statistics
Wing Span:
Length:
Root Chord:
Tip Chord:
Flying Weight:
Wing Area:
Wing Loading:

Power Setup:






Radio Setup:



Wheels and Landing Gear:




Useful Completion information
for this model:


Recommended Throws:




1,370mm
1,290mm
340mm
190mm
About 1,800 grams, with 4S1P 2240mah battery
37.5dm&sup2
48grams/dmē - very light!

- Designed primarily for electric power:
- Hardware setup: Turborix 833kv, 1000watt Outrunner brushless motor with 13" x 8" medium blade using a 4S1P 2240mah battery. This battery can produce only 500 watts of power so the motor is a little wasted. It never gets hot though!
- 60amp EMax controller.
- No extra weight was added to achieve the required COG!

Spektrum DX7 transmitter with AR7000 receiver (full range) with 4 Hitec HS81 servos. Ailerons are independently controlled allowing for Flaperon setup. Initial flights indicate a strong pull to the right when flaps are deployed.

The supplied wheels are replaced with much larger, 67mm or 2.5 inch, wheels.
The landing gear is replaced with home made, stronger 3mm aluminium legs. A plate spanning internally across the leg mounting points is added to reduce flex of the legs on the rough runway.

COG: The nominated 75/80mm back from the front of the wing root resulted in some wild dives so the COG was moved back to about 90mm and that flies really well.

- Elevator - 30mm each way.
- Rudder - 67mm each way.
- Ailerons - 30mm each way.
I always use some exponential for that smooth, scale effect when just cruising.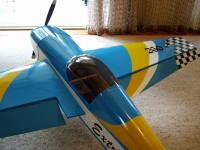 Flaps down on landing approach.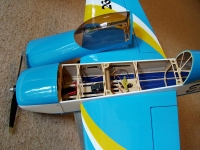 Built for electric setup with a large, magnetically retained hatch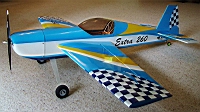 Sweet!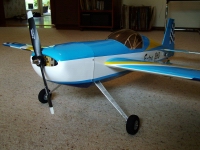 Wheels upgraded to 67mm with much stronger stub axles.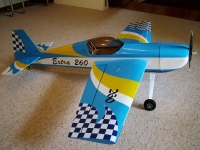 Heavy duty, 3mm, aluminium landing gear added to cope with the rough grass strip.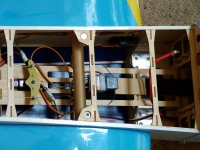 Observe the aluminium plate that spans the landing gear mounting locations thus alleviating excessive bending load on the ply mounts.